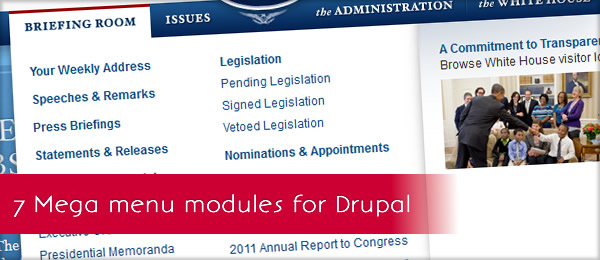 Mega menus (Multi Column Menus navigation) is web navigation menu which contain many customizable elements (like text, images, videos, slideshow...). You can easy create/find mega menu by using CSS and JavaScript, but what's about Drupal Modules? Below, you'll find some of the Megamenu modules for your Drupal site.
MD Megamenu (added in 19th Jan 2013)
MD MegaMenu is a perfect choice for creating unique menus. You can create a vertical, horizontal or fixed responsive menu with many custom styles and effects. No coding required!. Simply drag and drop what you need into the places that you want.
"Maximize your main navigation by adding text, images, videos, slideshow, tabs, menu blocks, user info ..."
That is now possible by using OM Maximenu which can create menus with all other module blocks you want as attachments, modules like views, slideshow, menu, user, nice menus, quicktabs, and custom blocks with tables, lists, images, videos, etc.
This module allows you to build mega menus by leveraging jQuery and the existing Drupal menu system. Megamenu takes a Drupal menu that is 3 levels deep, and converts it into a categorized 3-level mega-dropdown-style menu, which can be placed into your theme as a block.
Superfish integrates jQuery Superfish plugin with your Drupal menus. This module support multi-column submenu like mega menu.
Menu Views allows administrators to attach a view inside a menu item.
This is useful when creating "mega-menus" with content such as:
Recent blog, node, or user posts
Complex views that contain graphics and other HTML structures.
This module allows users to create mega menus that have mini panels as their flyout content. The benefit is that ANY type of content or UI can be added to the menu flyouts.
The Giga Menu module enables a standard Drupal menu to be displayed as a Mega Menu.
There is a tremendous amount of configuration available via minipanels and almost anything can be added to one - views, blocks, nodes, other menus, and even raw PHP code if the PHP Filter is enabled. Further, there are multiple layouts available and more can be easily built. Further, each minipanel can be customized differently, so what do you think if you can add those minipanels to menu?
Mega Dropdown module allows Drupal websites to display a menu a Mega Menu. It actually takes the concepts of the several other Mega Menus (also called Super Menus) such as Mega Menu, Giga Menu and Menu Minipanels, a step further. This module allows embedding of a Block, View, Node, or sub-menu items, on the menu. This enables placing, sub-menu content, images, text and even forms, on the menu system.
What modules do you like? Do you want new themes come with mega menu?